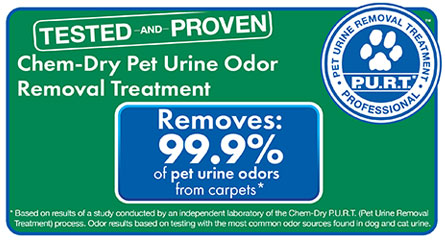 Pet Urine Removal Treatment Richmond CA
Pet Stains Richmond CA
We love our pets and we know you do too. Take advantage of our Pet Urine Removal Treatment in Richmond, CA! At Chem-Dry A Able, we are proud to offer the most effective process to handle pet accidents in Richmond, CA. Our Pet Urine Removal Treatment (P.U.R.T.) doesn't use perfumes to mask the smell, like some other products and services do.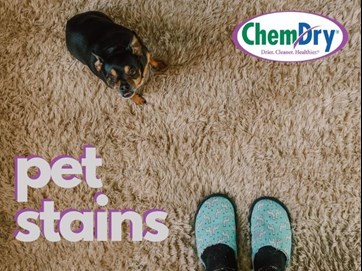 We eliminate the odor at the source, by exploding the urine crystals that cause the odors, so the smell is gone for good. You can officially be at ease with your furry ones in your home!
Urine in carpeting is a severe problem that can sometimes require major restoration work, not just simple cleaning and treating. But now, with Chem-Dry's Pet Urine Removal Treatment (P.U.R.T.®), your most severe urine soaked areas can be saved. P.U.R.T.® is a revolutionary process specially formulated to eliminate urine odors forever. This product has shown excellent results on even the most severe urine and other odor-causing spots by working to stop the smell at its source instead of simply masking the odor.
Tested and Proven Superior Results
An independent laboratory conducted multiple tests of P.U.R.T., our revolutionary process for treating pet urine odors and stains. In tests against the most common odor sources found in dog and cat urine, the study concluded that P.U.R.T. removes an average of 99.9% of pet urine odors from carpets.
Facts You Need To Know About Pet Urine In Your Carpeting:
Urine deposited on carpet does not stay there, it penetrates the fibers and contaminates both the backing of the carpet and the flooring material below the carpet. Often, without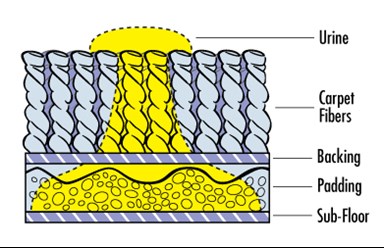 your knowing, pets will urinate continually in the same general location. Urine odors can permeate from the floor, be it cement or wood, from the tack strip, and even from the framework of the house behind the walls.
As the urine dries, the liquid evaporates but the urine crystals become even more concentrated and pungent. Simple cleaning will not remove this odor. Until recently, there was not a product available that was effective at removing urine odors. When P.U.R.T.® contacts the source of the odor, it immediately begins a chemical reaction that destroys the urine odor.
If your pet pees on on your couch or carpet, then you have got a bigger issue on your hands. Urine is a bit tougher than other stains, because it crystalizes and the stains go deep down into the fibers. P.U.R.T. contacts the source of the odor and causes a chemical reaction then destroys the pet urine odor.
We offer our P.U.R.T. service to everyone in Richmond, CA and the surrounding areas. Our professionally trained technicians will take care to inspect your home, identify any issues you may have and provide a free, no-obligation quote prior to beginning our service.
Call Chem-Dry A Able today at 510-236-1669 for the best Pet Urine Removal Treatment Richmond, CA has to offer!